Innovation
Key innovations to make Spain and Europe safer in the coming years
The private security sector must work with public organisations and provide cybersecurity of the Internet of Things and artificial intelligence.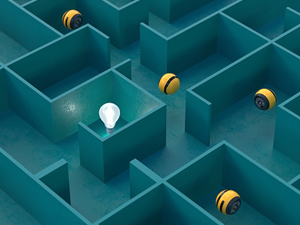 The importance of innovation in security is such that this word was one of the most frequently cited in the journal Cuadernos de Seguridad by managers who attended SICUR 2020, the international trade fair for the sector that is held every two years in Madrid. To develop this innovation, we have to work together, protect existing technologies and continue researching. This is the only way to maintain security in Spain and Europe, according to the Spanish Association of Security Companies (AES).
In its manifesto entitled Working together for a closer and more protected Spain and Europe. Priorities and challenges for 2020-2022, the trade organisation explains how companies, governments and other institutions can work together for the benefit of Europe.
In this context, private security companies have invested in innovation to continue offering cutting-edge products and services. They have applied new technologies, such as robots, drones and data analysis in their working dynamics. In the manifesto, AES states that they will continue "funding R&D efforts", but believes that unity between public and private organisations will be key to continue innovating, as this is the only way that "high quality research" will be achieved.
To achieve this, AES calls on innovation centres such as universities, research institutes and laboratories to join the sector "in identifying priority areas and coordinating efforts". Furthermore, it highlights the importance of research programmes like Horizon 2020, a European plan that funds innovation projects including in the security sector.
Specifically, Secure Societies has a budget of 1.613 million euros for the period 2014-2020. Its aims include improving cybersecurity and standardising systems, protecting critical infrastructure and safeguarding privacy, all of which the private security sector can contribute to achieving. The successor to Horizon 2020 is Horizon Europe, another programme for projects in research and innovation for the period 2021-2027 in which security companies and public bodies can participate.
As innovation must be done together, AES is calling for a single pan-European process with which to test these new products and certify them. For example, it suggests that laboratories and authorities have a "single scheme" for electronic security systems. With this and other similar initiatives, administrative burdens for small and medium-sized companies in the sector would be eliminated and investment in new projects would be favoured, as they have to spend less money to carry out tests.
These single systems are one of the traditional demands made by AES. In the 2016-2019 manifesto, the association was already calling for a "single market approach" to testing and certification, in order to provide security services and to recognise employee skills.
Technologies and sustainability go hand in hand
Cybersecurity, one of the purposes of Horizon 2020, is another area addressed by the AES manifesto. The association points out that "all participants in the value chain must be aware of the importance of increasing resistance in the face of cyber attacks". This is one of the "crucial issues" for the industry, as are the Internet of Things and artificial intelligence, which are already used in surveillance cameras and security systems analysis respectively. Faced with such innovative technologies, the association is calling for a quality seal to give society a guarantee that these products have "reasonable protection measures" against cyber attacks.
Meanwhile, the sector promises that in this biennium these emerging technologies will be "turned into sustainable solutions". Sustainability is linked to achieving a safer Europe, because AES has also set itself the goal of ensuring that new products and services will be respectful of the environment.
If all parties strive to work together in the years to come, and pursue innovation, the goals of the manifesto will be met. The most important factor is that not just that private security companies will see increased profits or more extensive product catalogues, but that European society will be more and better protected.