Press Room
S&P Global Ratings acknowledges Prosegur and Prosegur Cash's ESG leadership
The scores, 62/100 for Prosegur and 64/100 for Prosegur Cash, underline both companies' commitment to environmental, social and governance issues.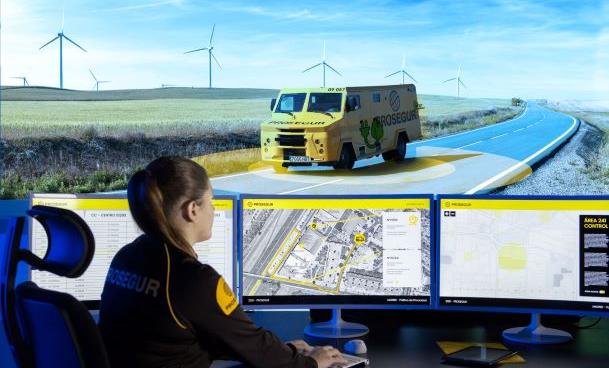 Madrid, July 12, 2023 - Prosegur and Prosegur Cash have repeated their scores in the S&P Global Ratings ESG Evaluation, recognizing their commitment to environmental, social and governance risks and opportunities. The S&P Global Ratings assessment analyzes a company's strategy and its ability to address potential risks and opportunities for future growth: the ratings agency has given Prosegur a score of 62/100 and Prosegur Cash a 64/100. In 2022, both were the first private security companies to obtain and publish this score. In addition, they remain alone in the security services subsector in having a public ESG Evaluation.
S&P Global Ratings highlights Prosegur and Prosegur Cash's efforts to directly reducing CO2 emissions and waste. In addition, it highlights Prosegur's commitment to employee safety and reducing business risks by offering a broader and more diversified set of security solutions. It also noted Prosegur Cash's continued implementation of sustainability initiatives in its operations and the expansion of its portfolio of digital and sustainable solutions, which has resulted in growth of up to 25% in its new products business line. S&P adds that both companies' financial and sustainability reporting continues to include features based on best practices and is more advanced than the Spanish average.
Welcoming the news, Antonio Rubio, General Secretary of Prosegur, said: "These ratings are a testament to the hard work carried out by Prosegur and Prosegur Cash in recent years in environmental, social and corporate governance, as well as their positive impact on our business model. Looking to the future, we are committed to further deepening our work in these areas with the aim of raising our commitment and leadership to a higher level."
Prosegur's ESG initiatives are developed under the umbrella of its Sustainability Master Plan, a detailed guide that includes 63 specific initiatives in four major areas: Ethics, Transparency and Governance; People; Safety at Work and the Environment.