Press Room
Prosegur Cash reports €979 million revenue in H1 2023, up 11% year-on-year
El crecimiento orgánico se acelera hasta alcanzar un sólido 33% durante el primer semestre de 2023.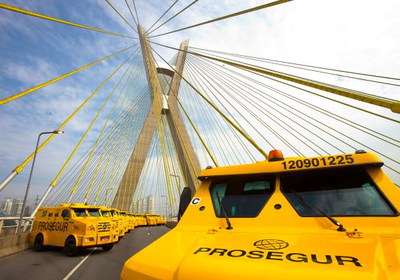 - Organic growth soars by 33% in the first half of 2023.
- Boost from new products, providing 29.1% of total sales, highlights Prosegur Cash's ability to drive growth through innovative, market-driven solutions.
- New products set a historic record, accounting for 29.1% of total sales, demonstrating Prosegur Cash's ability to drive growth with innovative, market-oriented solutions.
- Regulatory approval of Prosegur's merger in Australia, a key milestone
- Prosegur Cash also obtained a strong ESG (environmental, social and governance) rating from S&P Global Ratings, underscoring its commitment to sustainability and long-term value generation.
Madrid, July 28, 2023 – Prosegur Cash today announced its results for the first half of 2023, highlighting a strong performance and continuous growth across all business areas and geographies. During the first half of 2023, Prosegur Cash reported total revenue of €979 million, representing a 10.9% increase compared to the same period last year. This growth was driven by outstanding organic performance, which experienced a 33% improvement, reflecting the company's strong market position.
The company's EBITA showed positive growth of 7.1%, reaching €129 million in the first half, resulting in a 13.2% margin on sales. Prosegur Cash continues to improve its margins quarter by quarter, both in absolute and relative terms, with a steady EBITA margin of 13.7% in the second quarter, despite the impact of currency and seasonal fluctuations in the Forex business.
New products reach new record
Continuing their upward trend, new products have played a key role in Prosegur Cash's growth strategy, accounting for 29.1% of total sales in the first half of 2023, representing an increase in penetration of 570 basis points. During this period, sales of new products reached €150 million, marking a record quarter, with a 38% increase compared to the same period last year.
Cash Today cash automation solutions, the Corban correspondent banking service and the Forex foreign exchange business have been the main drivers of new product growth, with all geographies contributing strongly to it.
Cash flow generation and a strong financial position
Regarding cash flow generation and financial position, Prosegur Cash generated free cash flow of €35 million in the second quarter of 2023, accelerating cash generation quarter by quarter, while maintaining a stable leverage ratio of 2.1 times net debt over EBITDA, despite financing the growth experienced, closing the semester with a net debt of €778 million.
Activity by geography
Overseas, Latin America continues to contribute most of the group's sales, accounting for 63% of total revenues, amounting to €620 million in the first half of the year. The region has experienced accelerated organic growth of 41.7% compared to the same period last year, resulting in a 3% increase in sales despite the negative impact of foreign exchange in several countries. Additionally, the penetration of new products increased to 30% of total sales, marking a 14% growth.
Europe, representing 29% of total sales, saw sales rise by 31% to €286 million, driven by organic growth of 12.4% and the exceptional performance of new products, which, excluding the addition of the Forex business, increased by 17.1%.
The Asia-Pacific region, representing 8% of total sales, experienced sales growth of 15.6% during the first half of 2023, supported by excellent organic growth of 20.8%, well above the negative currency impact of -6.0%. Reflecting the trend throughout the company, new products continued to show solid growth of 40%, driven mainly by the strong performance of Forex.
Milestones: Merger and ESG recognition
In addition to robust financial results, Prosegur Cash achieved significant milestones during the first half of 2023. The Australian regulator's approval of the merger between Prosegur Australia and Armaguard has provided an important boost to ensuring the sustainable supply of cash in Australia.
During the same period, S&P Global Ratings recognized Prosegur Cash for its leadership in environmental, social and corporate governance (ESG), with a 64/100 rating. Along with Prosegur, it became the first private security company to obtain and publish this evaluation over the last year, and both are currently the only ones in the security services subsector with a publicly available ESG Evaluation.
In conclusion, Prosegur Cash continues demonstrating its capacity to lead the global cash management sector, driving transformation, and offering innovative solutions to its customers. Through continuous investment, expansion of new products, and its focus on sustainability, the company is well-positioned to continue growing and generating long-term value.