FINANCIAL COMMUNITY
INVESTOR RELATIONS
369
In-person meetings with investors
60
Conference calls
86
Meetings with analysts
9
Roadshows with investors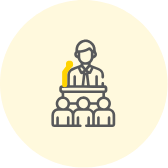 8
Industry Conferences
6
Visits to operating centres
1
Breakfast with investors
Major Shareholders
The share structure of Prosegur Cash is sound and stable. As of 31 December 2018, 72.5 percent of the share capital was directly or indirectly held by Prosegur, while the remaining 27.5 percent was floating capital, with prominent holdings in the hands of FMR (6.645 percent), Oppenheimer (4.992 percent) and Fidelity Investment Trust (3.806 percent).
The Board composition allows the Directors to define the strategy and take decisions in keeping with the interests of all the shareholders. The sound and stable core of relevant shareholders, largely made up by significant shareholders and institutional investors, grants Prosegur Cash the ideal conditions to develop its project and achieve its goals.
ANALYST COVERAGE AND
RECOMMENDATIONS
The recommendations of the 13 investment analysts tracking Prosegur Cash are given below:
SHARE EVOLUTION
The performance of Prosegur Cash during 2018 suffered the effects of a macroeconomic scenario that was more hostile than in 2017. Such environment not only had hazardous effects on Latin American currencies; it also slowed down the growth of the major economies in the region--Brazil and Argentina.
The rate hikes commenced by the Federal Reserve in March 2018, which lasted through the end of the year, sped up the return to USA of many monetary assets that were formerly invested in the Latin American region, exerting upward pressure on the exchange rates across various countries. Accordingly, both the dollar and the euro picked up significantly against the major Latin American currencies, among which the Brazilian real and the Argentine peso suffered most.
In addition, political uncertainty in Brazil and fiscal imbalances in Argentina, which led it to being declared a hyper-inflationary economy, had a negative impact on the growth of both economies, slowing down economic growth in the former and significantly reducing the contribution of the latter.
As a result of the foregoing, consolidated sales of Prosegur Cash were weighed down by the impact of its currencies, despite the fact that in constant currency terms growth remained in double digits.
All in all, as of 31 December 2018, the share price of Prosegur Cash closed at 1.93 euros, down 28 percent from year-end 2017.
GEOGRAPHICAL DISTRIBUTION
OF FLOATING CAPITAL
The greater part of the shareholders with the 28 percent of floating capital of Prosegur Cash are in the United States and the United Kingdom, which shows how appealing the company's business model is for foreign investors.